SP360 4K - VR CAMERA
Starting at $349.99US MSRP
Introducing the KODAK PIXPRO SP360 4K VR Camera, designed for professionals wanting to take their 360° VR videos, creative vision and passions to new heights. Prepare to marvel at the amount of detail, clarity and precision this compact VR camera provides, which easily fits in the palm of your hand. KODAK PIXPRO Digital Cameras – Tell your story.
- 360º Spherical Lens
- 235º Field of View
- YouTube™ and Facebook™ 360º Video Compatible
- Mac or PC Desktop Editing Software (included with purchase)
- PIXPRO SP360 Stitch Software (included with purchase)
- FREE iOS™/ANDROID™ App for wireless control
EFFECTIVE IMAGE SENSOR PIXELS
TOTAL IMAGE SENSOR PIXELS
12.76 Megapixels [1/2.33" BSI CMOS]
Electronic Image Stabilization
NUMBER OF RECORDING PIXELS
(1:1) 8MP: 2880x2880, (4:3) 4MP: 2304x1728, (16:9) 2MP: 1920x1080
Round Video (1:1): 2880x2880 - 30fps, 2048x2048 - 30fps, 1440x1440 - 60fps, 30fps, 1072x1072 - 60fps/30fps
Flat Video (16:9): 3840x2160 - 30fps, 1920x1080 - 60fps/30fps, 1280x720 - 60fps/30fps, 848x480 - 60fps
High Speed Video: (1:1) 720x720 - 120fps, (16:9) 1280x720 - 120fps, 848x480 - 240fps
MP4 [Image: H.264; Audio: ACC (Stereo)]
Still, Burst Shot, Movie, Time Lapse, Loop Recording, Hi-Speed Movie
Equivalent to JIS/IEC IPX5 (Body)
Up to 2m (With Protective Lens Cover)
Equivalent to JIS/IEC (IPX6)
Artificial Intelligence AE (AiAE)
Approx. 10 fps (Full Resolution)
Auto (AWB), Daylight, Cloudy, Fluorescent, Incandescent, Underwater
micro SD/ micro SDHC/ micro SDXC Card (Up to 128GB Support/Class 10 or Higher) [MMC Card Not Supported]
USB 2.0 (Micro 5-pin USB), HDMI (Type D)
Yes (via Smart Device), RF Remote Control, Control up to 5 Cameras (Sold Separately)
Rechargeable Li-ion Battery LB-080, 3.6V 1250mAh, In-Camera Charging
SHOOTING CAPABILITIES
(Battery Performance)
Approx. 160 shots (Based on CIPA Standards) (Wi-Fi On)
​​​​​​​Approx. 55 min. for Video (@4K/30fps) (Wi-Fi On)
OPERATION ENVIRONMENT
(Battery Performance)
Temperature: 14° - 104°F / -10° - 40°C, Humidity: 0 - 90%
Approx. 1.88 x 1.96 x 2.06 in. / 48.0 x 50.0 x 52.5 mm (Based on CIPA Standards) (Without Lens Cover)
Approx. 3.59oz. / 102g (Body Only)
Rechargeable Li-ion Battery, USB Cable, AC Adapter, Quick Start Guide, Lens Cover, Protective Cover, Lens Ring, Small Lens Cover Case, Battery Charger, Carrying Case, Cleaning Cloth, SP360 4K Overview Card, SP360 4K Online Company Store Card, Warranty Card, Service Card, and SP360 4K Best Practices Card
iOS™ Devices (version 8.0 and up)/ ANDROID™ Devices (version 4.2 and up) supported
(iPad mini 1/ iPad 2/ iPhone 4s and below not supported)
The SP360 4K VR Camera takes a micro SD/ micro SDHC/ micro SDXC memory card that is at least Class 10 and no larger than 128GB.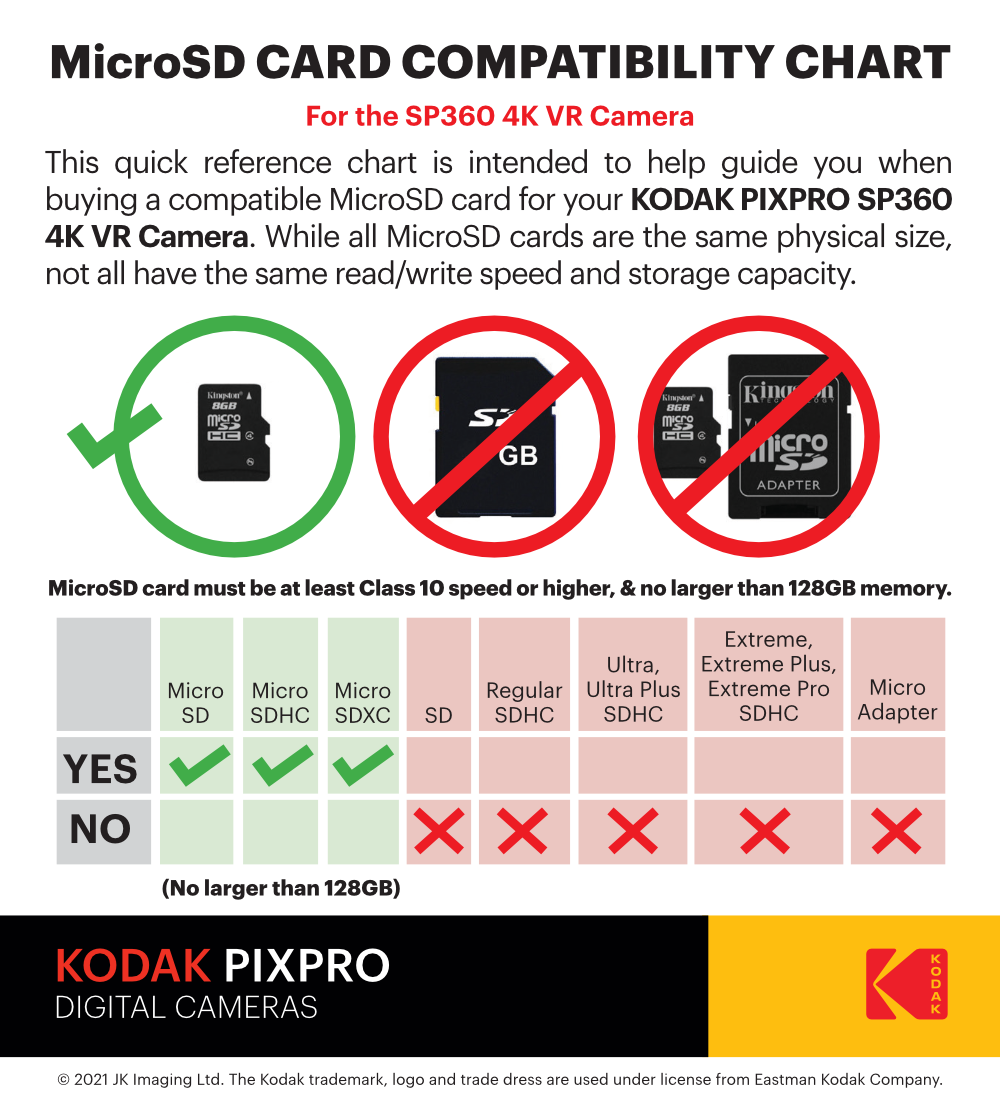 STILL
WANT MORE?
WE'VE
GOT YOU COVERED
Surround yourself in 360° and take advantage of another powerful tool we offer. Download our complimentary PIXPRO 360 VR Suite and access a treasure chest of helpful and user friendly software, utilities and features that will allow you to use your SP360 4K with your personal computer. Compatible with Mac (MacOS 10.10 and above) and Windows 7 (and higher), the PIXPRO VR Suite offers you the following tools and functionality to take your 360° photos and videos to the next level:
- 360° Photo and Video Editing

Capabiities

- 360° VR Stitching Function

- Live View via Wi-Fi™

- SP360 4K and ORBIT360 4K VR Camera Control & Recording
PIXPRO SP360 4K REMOTE VIEWER
Every App is not created equal – or so the story goes. See exactly what you're framing and capturing as you record it in glorious 360°. Add even more flexibility with the ease of controlling your SP360 4K VR camera remotely from your Smart Device, be it iOS or ANDROID . We know you want ample options and life isn't lived tethered to a cable. Set your imagination and yourself free. Watch what happens.
YOUR TURN TO BE A STAR
Come join the growing community of KODAK PIXPRO camera enthusiasts and fans online! Watch others review and share their experiences or make and share videos of your own. We're here to help you take your adventures and passions to the next level.
Show us what you've got!
SHARE IN THE COMMUNITY!
Be a part of our long time family of dedicated photographers and videographers. The KODAK PIXPRO Camera Community is for the imaging enthusiast with a desire to learn, experience, and share.
Join the team by tagging #kodakpixpro on social and have a chance to be featured as one of our favorites!
KODAK PIXPRO Digital Cameras - Tell Your Story.